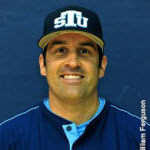 JORGE PEREZ
Head Coach
When Jorge Perez was hired in 2009 as STU's baseball coach he expressed a clear vision for the future of the Bobcat Baseball Program. The goal was to assemble an excellent coaching staff, recruit quality student-athletes, and prepare the team to perform at their highest level. The baseball program prepares each season with their sights set on winning the Sun Conference Title and competing in the post season to win a spot in the NAIA College World Series. Through hard work and determination, the STU baseball program has qualified for the NAIA Opening Round of the World Series in the 2010, 2011, a 2012 seasons.
In 2012 the baseball program had a breakout season. The team won 45 games and had a .763 winning percentage. That ranks as the fourth highest winning percentage in school history. The program also finished ranked 15th in the nation and won The Sun Conference Tournament for the first time in school history.
Before coming to St. Thomas, Perez was the head coach at Gulliver Prep and South Dade Senior for three seasons each. During his high school coaching career, Perez accumulated a record of 80-54. He led his teams to two Regional Final appearances and in 2007, participated in the 3A Final Four State Tournament with the Gulliver Prep Raiders.
Perez has been around baseball his entire life. As a player he was fortunate to be involved in both collegiate and professional baseball. Perez graduated from Rollins College in 1993 where he was a four-year letter winner. At Rollins, he participated in two regional tournaments, played on the only team in school history to be ranked #1 in the country, and was part of the squad that beat both the University of Miami and University of Florida in the same season. After college, Perez began his professional playing career by signing as a free agent with the St. Paul Saints of the Northern League. From there, he played another couple of seasons with two other professional organizations.
Perez began his coaching career in 1996 as an assistant at Kean University (a nationally ranked Division III school in New Jersey). His main responsibilities included developing the catchers and hitters. In 1998, the program participated in their first regional appearance in 25 years. In 1999, Perez was hired as an Assistant Coach by Manny Mantrana at St. Thomas University. In the year 2000, St. Thomas compiled a 51-16 record, won the Florida Sun Conference Championship and participated in the NAIA College World Series.
Coach Perez received his Master's Degree in Educational Leadership in May, 2012 from St. Thomas University. Perez resides in Kendall with his wife, Mitzie and two daughters, Mia (12) and Jenna (5).